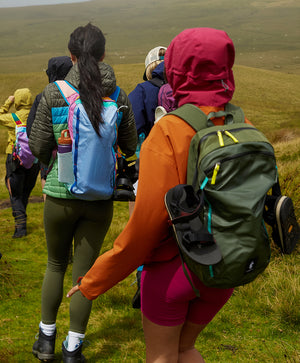 Adventure Meets Empowerment
The GorpGirls Conquer New Heights
The collab you didn't know you needed - GorpGirls and Cotopaxi take to the hills. 
All About the GorpGirls
Let us introduce you.  
GorpGirls, an online platform, creative agency and collective, specialises in showcasing women championing the outdoors, with the mission to create a safe space for women, through hikes, climbing workshops and run clubs.
Playing off the word 'Gorp' short form for 'Good Ol' Raisins and Peanuts', a term used for Trail Mix, The GorpGirls online platform offers a female lens to the popular 'Gorp Core' fashion trend.
The Shoot
A haven for outdoor enthusiasts, boasting rugged landscapes and rolling hills, the GorpGirls embarked on an unforgettable adventure in the Brecon Beacons to the Bannau Sir Gaer Circular to conquer new heights and take a cold plunge in the Llyn y Fan Fach lake. 
Setting off early, the girls faced poor weather conditions, far from your typical July weather, but despite this they pushed on. Their vibrant Del Dia Packs, trusty Cielo Rain Jackets and warm Fuego Down Jackets lit the way, looking incredible with the natural hues of the Brecon Beacons and dismal weather, creating a striking contrast that emphasised our brand's unique style.     
Throughout the day, the girls captured candid moments of their escapades, style, sense of community, and of course the weather, painting a truly authentic picture of how you need to improvise and adapt to your surroundings regardless of the weather.  
It was also a celebration of female empowerment - The GorpGirls showed us that outdoor exploration knows no bounds.
Here's what they had to say about their community: 
''Friendship has really become the driving force behind GorpGirl and it's the reason our community keeps growing. Everything we do is really done with love and the friendship within the community continues to inspire us.''  
Follow Cotopaxi and the Gorpgirls on Instagram and TikTok to keep up-to-date with their latest adventures.