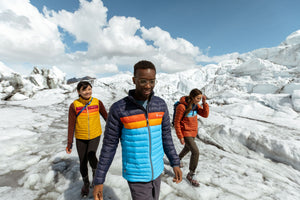 Find the jacket that's right for you.
Winter can be full of fun and snowy adventures - or it can be miserable and freezing. Your cold-season experience could all come down to choosing the right insulated jacket. Synthetic insulated jacket or down insulated jacket? Lightweight puffy or heavy parka? We break down all the options in this guide to helping you pick a puffy.
Two very different types of insulation, both with their own benefits and drawbacks. In this guide, we'll compare the two, so you can decide which is best for you.
Down Insulation
Comes from goose or duck plumage. It's the light and lofty layer underneath the outer feathers, allowing it to provide excellent insulation.
Super lightweight and packable, while providing excellent warmth and locking in heat, thanks to its unbeatable warmth to weight ratio.
Doesn't perfrom as well as synthetic insulation in wet conditions (although we use down that is treated with a durable water repellent to help improve performance).
Shop Fuego Down Jackets
Synthetic Insulation
Made from polyester engineered to mimic natural down, so it is lightweight and packable, while providing exceptional warmth whatever the conditions.
More breathable than traditional down, and performs better than down in wet conditions. Down loses some of it's ability to hold heat when it gets wet.
Synthetic insulated jackets are free of animal products, so if down isn't your thing, we've got you covered - whatever the weather.
Shop Capa Insulated Jackets
The Trico Hybrid Collection
A mix of quilted insulation and fleece or baselayer material. Quilted insulation (usually synthetic) keeps your core warm, whilst fleece sleeves deliver breathability and range of motion. Perfect for:




The Teca Calido Collection
A lightly insulated jacket (usually synthetic) with a polyester or nylon shell. May include durable water repellent (DWR) finish to improve water resistance while still offering breathability. Perfect for:




The Fuego & Capa Collections
A medium-level of insulation, typically featuring a nylon shell with a DWR finish. Can be insulated with down or synthetic materials, and works well in cold temperatures - but still breathable enough to wear across seasons. Perfect for:




The Solazo Collection
Typically the warmest insulated jacket option available.Longer in length for added warmth. Usually insulated with down; lower fill power but more of it to make for a big and puffy jacket. Ideal for: