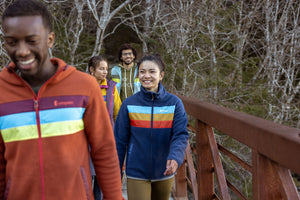 Find the Fleece that's right for you.
What makes a Cotopaxi fleece different? Well, we're constantly working to make our range in the most eco-friendly and ethical way, and we're committed to using repurposed, recycled or responsible materials in all our products by 2025. All our fleeces are made from 100% recycled polyester, with some using repurposed detailing to really capture the essence of our Do Good mission. Let us help you find the fleece that's made for you.
We're working towards a more sustainable future for all, and a large part of that comes down to how we source our materials. The Three R's are the pillars on which we're focussing our efforts in order to achieve this.
Repurposed
We use high-quality, leftover materials that might have ended up in landfills. That's what makes our Del Día bags one-of-a-kind and our Teca layers limited-edition. We give these waste materials a chance to shine.
Shop Repurposed Fleece
Recycled
Recycled materials reduce our dependence on fossil fuels and keep good fabric out of the landfill. Our Teca Cálido Jackets, some of our fleece, and our activewear use recycled content.
Shop Recycled Fleece
Responsible
Any natural materials we used are ethically sourced and certified, from RDS responsible down to Fair Trade cotton. Many of our products are also made in Fair Trade Certified™ factories.
Shop Responsible Fleece
Retro-Inspired, Limited Edition Fleeces
Sustainable, super cosy, and bright as can be, the colourful Teca Fleece is a true all-season hero. Each Teca Fleece is made from best-in-class, recycled fleece and DWR-treated, polyester taffeta left over from other companies' production runs. This keeps perfectly good materials out of the landfill, instead putting them in the hands of thoughtful adventurers like you.




The Teca Calido Collection
A lightly insulated jacket (usually synthetic) with a polyester or nylon shell. May include durable water repellent (DWR) finish to improve water resistance while still offering breathability. Perfect for:




The Fuego & Capa Collections
A medium-level of insulation, typically featuring a nylon shell with a DWR finish. Can be insulated with down or synthetic materials, and works well in cold temperatures - but still breathable enough to wear across seasons. Perfect for:




The Solazo Collection
Typically the warmest insulated jacket option available.Longer in length for added warmth. Usually insulated with down; lower fill power but more of it to make for a big and puffy jacket. Ideal for: